Final notes and share certificates
All shareholders who are entered in the shareholder register must be issued a share certificate by the company (Section 4-10 of the Norwegian Companies Act). At dCompany, both the company itself and the individual shareholder can download this, which is practical for companies with several shareholders. In the same way, a closing slip can be downloaded as a confirmation of the transaction that has been registered.
Functions
Download share closing notes and share certificates that meet the requirements of the Companies Act
Norwegian, English and bilingual format
The documents indicate the relevant share numbers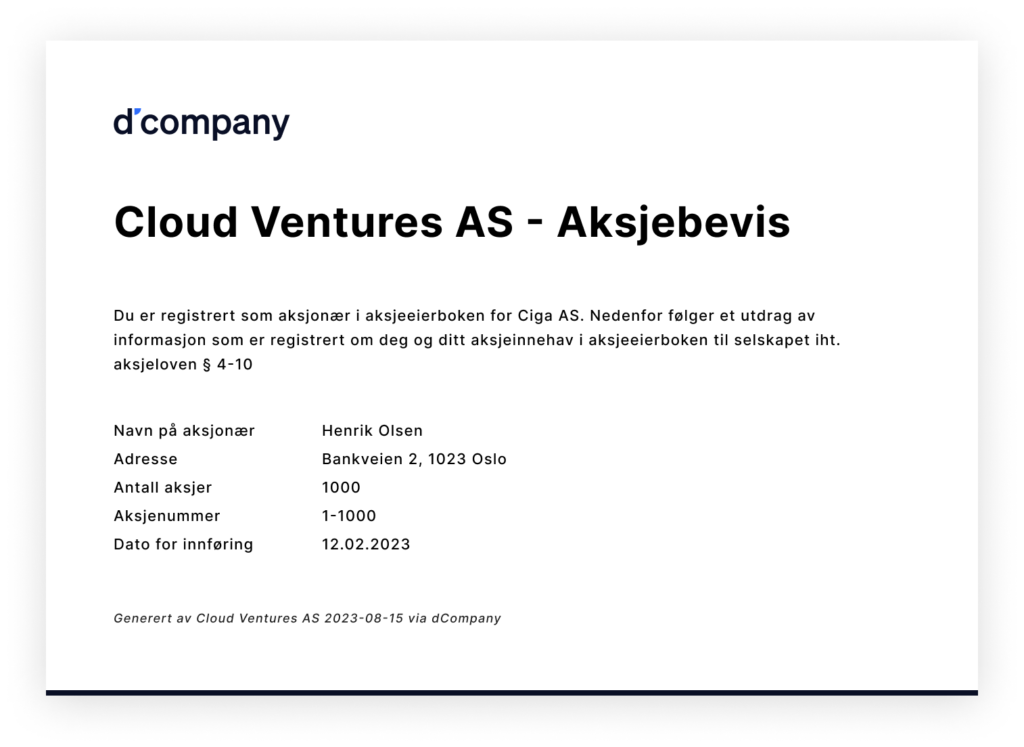 This option is particularly popular for companies with many shareholders , such as companies with employee investment programs, syndication companies and the like. Both the company itself and the individual shareholders save time and have the necessary documentation readily available. Customers therefore warn that the number of inquiries about such practical matters has been significantly reduced.
Good to know
The Swedish Companies Act requires the company to issue share certificates every time a shareholder is entered in the share register or there are changes in the holdings for such a shareholder (Section 4-10 of the Swedish Companies Act)
Shareholders have the opportunity to download the closing note and share certificates from their individual shareholder pages ("shareholder view")
The option to download share ownership certificates and closing notes is often combined with the company publishing other information on the individual shareholder pages, such as the valuation value and any also market value and documents that are relevant to the shareholders. See further information on individual shareholder pages .