Carry out share splits quickly and correctly, including automatic generation of notices and minutes, sending, signing, automatic updating of articles of association and shareholder book; and submission to the Brønnøysund registries.
Formal process
The general meeting can decide to split each of the company's shares into two or more shares. The platform currently does not support splits in numbers that are not whole numbers, with the exception of cases where there is only one shareholder where it is sufficient for the denomination to add up to a number of decimal places.
In the event of a split, there is no increase in the share capital. Existing share capital is only distributed over more shares than originally.
Splits in whole numbers create few challenges because each individual shareholder receives a number of shares after the split equal to the number of shares they had before the split multiplied by the split factor. But a split can lead to the company's shares having a face value that does not go up, and that should be avoided.
Follow-up of decisions
The decision to split is registered in dCompany ( the shareholder book and the transaction log ) and in the Brønnøysund registers ( updated articles of association ).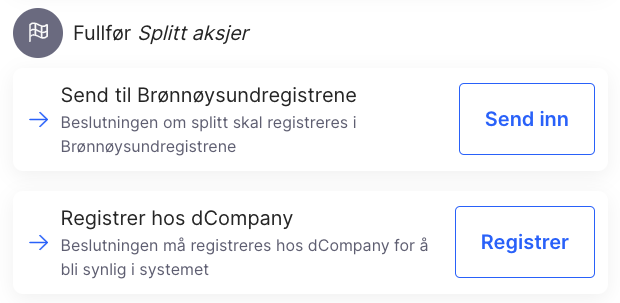 Good to know
The split cannot cause the denomination to have an unlimited number of decimal places – the platform checks this
The platform distributes the shares in the event of the split automatically to the company's existing shareholders.
There a distribution according to original ownership would have resulted in fractional shares (which is not permitted), the shares are distributed to the shareholder or shareholders with the highest fraction until there are no more shares to distribute
It is possible to manually adjust the distribution of the shares, for example in a situation where a shareholder does not want to accept that the number of shares allocated is rounded down.
Combine events
With dBot you can combine free text and automated company events in the same formal process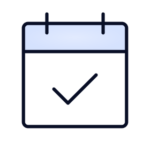 Digital invitations
Send invitations to board meetings and general meetings directly from the platform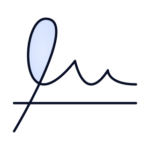 E-signature
Sign protocols with Norwegian or Swedish BankID, e-mail or hand signature
Norwegian and English
Choose between Norwegian, English or bilingual documents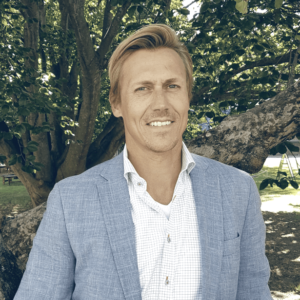 dCompany reduces risk and is a useful tool for managing board meetings, general meetings and legal resolutions.
We have also used it in connection with in-kind deposits. It saves us time and reduces the risk of errors.
Joakim Fuglerud
CEO
Karlander Property
Safe and efficient management of portfolios
Manage shareholder books across companies and national borders
dCompany connects the company's own data
publicly available owner data and gives you a full overview of the group or portfolio – across countries
Eliminates entering the same information in multiple places
If you have used dBot to make a decision, the platform will automatically update both the articles of association and the shareholder book.
Get full control of upstream and downstream ownership
Control of ownership is important for all companies, and especially for companies with many shareholders, structures and for advisers with client portfolios